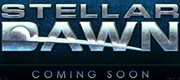 The
Stellar Dawn pre-Beta Phase
is the time period from the launch of the
Stellar Dawn
official website on 14 July, 2010 to the launch of the Beta testing phase.
The website was launched with the Beta signup option and official discussion forums. This was released alongside six pieces of concept art and an Introduction video featuring CEO Mark Gerhard discussing Stellar Dawn over a backdrop of concept art.
Stellar Dawn Story Competition
Edit
Main article: Stellar Dawn Short Story Competition
The first short story competition was launched on 27 July, 2011. Winners were announced on 10 September, 2011. Each winner received the promise of a beta key.
Brace for Impact
Edit
Main article: Brace for Impact
The first true trailer for Stellar Dawn entitled Brace for Impact was released on 10 August, 2011.
Stellar Dawn Art Competition
Edit
Main article: Stellar Dawn Art Competition
The first art competition was launched on 13 October, 2011. The winners were announced on 18 November, 2011. As with the story competition, every winner was promised guaranteed beta upon release.
Helen Grange Saga
Edit
Main article: Helen Grange Saga
The Helen Grange Saga was a series of forum-based, officially sanctioned roleplaying events with Jagex Moderators disguised as characters in a story interacting with the players.
Ex-net Breach
Edit
Main article: Ex-net Breach
A total cessation of communications between developers and players occured on the 13th of October, 2011, shortly before the release of the art competition winners. This was the last official news update for nearly a year and is currently ongoing. It was first met with some disdain, but optimism persisted that it would end before January 2011, in time for an early-Beta release.
Speculation raged as to reason for the halt and reasons cited by players include hasty pre-release or a massive roleplaying scheme. The forums were also left largely unmoderated during this period, as Jagex Moderators rarely appeared to settle disputes and Forum Moderators were not officially assigned to Stellar Dawn, but mostly curious players who happened to be Forum Moderators from other websites.
On July 21, 2011, a news update was released containing a brief reassurance that the Stellar Dawn Official Forums were not shut down, contrary to an unconfirmed rumor. This was the first News forum post since the beginning of the Breach.