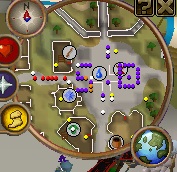 The Stellar Dawn First Birthday event was hosted by Chonito I to celebrate the birthday of Stellar Dawn's forums. This was also the first "public event" hosted by the Steel Alliance. Members of The Combine (IVIilitarus, Lady Dragon, Zephyrraeon, Arc Tech, and Valeyor) also attended.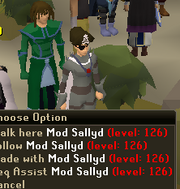 The event took place on July 16, 2011, at 18:00 GMT. The location was set in RuneScape, one of Jagex's most popular games, on account of the actual Stellar Dawn game not being released at the time. Attending members met at the town of Lumbridge, where they paraded through the towns and cities of Draynor Village, Falador, Varrock, and Falador again. Players brought confetti, fireworks, firecrackers, and space pie for each stop. In Varrock, Stellar Dawn's initials were also made by the players by lining up in a fashion to portray a giant "SD" on the mini-map. Finally, the event ended in a Clan Wars tournament with a 100k prize for every person on the team that won.
Mod SallyD also attended after being invited.
Original thread can be found here: 84-85-89-101155